Welcome to Lighting Mfg. & Importers by Baron Inc., makers of custom crystal chandeliers, wall sconces & more
Lighting Mfg. & Importers by Baron, Inc. has been manufacturing and designing decorative lighting for over two decades, specializing in creating beautiful chandeliers and wall sconces in crystal, rod iron, pendants in alabaster and faux alabaster, etc. Custom designs and crystal chandeliers are our specialty. Our pieces are especially suitable for high-end retail shops, casinos, hotels, ball rooms and similar establishments.
We are highly reputable for skilled quality craftsmanship, timely delivery, unsurpassed customer service and at very competitive prices.
View some examples of our crystal chandeliers, wall scones and much more.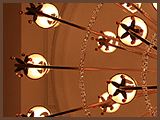 Gallery
Please take a tour of our custom lighting gallery
view...
Contact
We look forward to servicing and "enlightening" all your commercial and residential decorative lighting needs.
Tel.
718-384-6303
Fax.
718-388-7674